Thursday, January 17th, 2013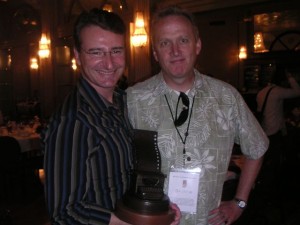 What's it like to work on four Hollywood scripts at once? Is development really hell? When do you have time to write?
We figured if we wanted to know, you might too.  It's hard to believe, but we talked screenwriters Geof Miller and Troy Hunter into stealing moments away from writing scripts to write tweets instead.
Starting today, the boys will tweet regularly from the Sceneplay account. Just follow @sceneplayco on Twitter to get exclusive updates on their adventures in Hollywood. With four deals in the pipeline there's always something cool happening!
The trouble is with so many scripts, treatments, and ideas in the mix it can get confusing.  So we've put together a legend below to help you keep track of the various projects.  We'll update it as things change.  And, sorry, but producer names are deliberately kept quiet.
HA – Henry Allgood Must Die
FD – Fear the Day
KR – Untitled Mystery Thriller
MM – Mac & Martin Take America
IN – Untitled feature (idea)
SM – Untitled hour-long TV drama (idea)
RV –  Paid writing assignment for biography adaptation (updated 2/14/13)
To keep things interesting, we'll also offer live Q&A sessions that will only be available on Twitter. Plus you'll get advance notice of events and special deals on their Irresistible Pitching Process.
So, come on over and get a look inside what it's like to write and pitch in Hollywood.
Keep writing!
Trackbacks
There are no trackbacks on this entry.